Offering personal color consultations, we work with you to help you choose the best color for your style of home.  Whether it is a Victorian, Ranch, Farmhouse or Colonial, each style of house dictates what color will bring out the finest details. Getting to know the homeowners and understanding their style and taste is imperative in the decision making process.  Choosing colors for your home is also determined by a few different factors.  They are: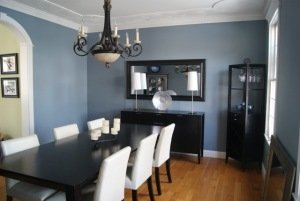 The Style of home, ie; Victorian, Colonial, Ranch
What is the overall look you wish to achieve?  Bright? Warm? Neutral?
Your Current furnishings
Trim; Is it stained or white?  The trim color or tone makes a difference in choosing complimentary colors for your walls
What is the layout/Architectural design of the interior
In deciding on a color scheme, sometimes a little coaxing can go a long way.  Quite often, homeowners are leery on choosing stronger colors. However, if there is a good amount of white trim and
detail in the room, such as crown molding, wider baseboards, windows, and doors, then adding a stronger color can significantly make your finer woodwork standout.  We offer free color consultations when you contract our painting services.  Want to tackle your project yourself?  We offer independent color consultations.  Call for details.
Hi Kristen,
I hope you are having a great weekend!  I pulled all the samples and we love all your suggestions!  I'm so excited to make the changes to our house.  R. Bobroff, Norfolk, MA  April '16
Dear Kristen
We just had our kitchen cabinets painted, Kristen and Joe were great to work with. Kristen, was very helpful with color and design tips, and Joe is very knowledgable and skilled with the painting process. We are vey satisfied with the end result, it totally transformed our kitchen!  Donna, Hanson, MA  July '16