Kristen was a pleasure to work with! We had a fairly large project that we had a tight deadline on and Kristen worked efficiently with her teams and with us to get the job done–right on time! We recently moved into a new home and replaced our kitchen counter tops, sink, some appliances, replaced the counter tops on a wet bar and had an entire wall and bar of shelving and cabinets painted. We also had the entire house inside painted to include ceilings, walls and a touch up on all of the trim. We are extremely pleased with all of the results! There were many different teams that came out to finish various parts of the project and they were all extremely, polite, fastidious, and cleaned up well at the end of each day. I would highly recommend Premiere Pros for any of your kitchen remodeling and painting projects you are planning! D. Mcwhinnie, Pine Hills, MA Nov'21
---
They did a great job from start to finish on our kitchen face lift. They were very mindful of our budget and their pricing was extremely reasonable. Their quality of work was great and their employees were knowledgeable, helpful and pleasant. An all around great experience. D.Gage Duxbury, MA  Jul'21
---
Joe and Kristen run a top notch business! Kristen is prompt and courteous and gave me some great ideas on how to design my new bathroom cabinets as part of my bathroom remodel. What I liked most about dealing with Kristen is that she didn't try to sell me on going with them, but rather, she presented options and even told me to consider buying them on line because of the size. In the end, I went with them because I felt they both deliver good old fashioned, honest, service and my cabinets look awesome! Joe had to come back for a slight adjustment on one of the doors and quickly fixed it. They both have a warm and customer-caring attitude. I would so rather do business with them than going to a Big Box store which is impersonal and doesn't deliver the quality craftsmanship you'll get from Premiere Pros. It's a well run family business with professional values. Highly recommend them. M.B Stoughton, MA
---
I decided to update my kitchen cabinets and counter. I couldn't decide whether or not to refinish or paint the cabinets. After meeting with several companies, I decided to paint and chose Premier Pros due to the fact that they coordinate the process. Kristen was great at project managing from choosing the counters to painting the cabinets and helping with choosing paint for the walls. All the staff were courteous and always cleaned up when they were finished. Kristen and the coordinator always responded to my inquires within 24 hours. Joe came out and did a final inspection before the final payment was due to make sure I was satisfied. I have to say I was a little nervous to paint the cabinets. I am happy that I did because they look like brand new cabinets. I absolutely recommend Premier Pros for kitchen remodeling. P.Lundrigan, Abington MA Jun'21
---
This team is awesome! From the moment you talk with Kristen, you know you are in great hands! They updated our kitchen cabinets and the team did a fantastic job! They took care of all the little details that really take it to another level! We could not be happier and would recommend using Kristen & Joe to all of our friends and family. K.Muzrall, Walpole, MA Feb'21
---
We needed a facelift in our kitchen and open concept living areas and were unsure of how to proceed or whom to turn to. My husband happened to see a Premiere Pros lawn sign at a home near us and called Premiere Pros. Husband and wife team, Kristen and Joe, both came to our home and provided great ideas. We were so impressed that we quickly signed on the dotted line. (For us it was completely against everything we've ever done…which is to always check out at least 3 contractors…we were so impressed by Kristen and Joe that we didn't call any other contractors.) Kristen's suggestions for paint colors, countertops, and decor were spot on! Joe's workmanship is amazing. He is extremely particular and didn't leave one item unfinished until it was absolutely perfect. We couldn't be happier with the finished product and highly recommend Premiere Pros. Note…no photos are included here as we still have some finishing touches (lighting, fans and furniture).  M.Lynch Hingham MA Oct'20
---
Premiere Pros completed an amazing makeover for us, giving our home an up-to-date, beautiful new look, at an affordable price. We had our house on the market for months with no offers. We finally decided to respond to feedback that the 13-year-old, custom-built kitchen looked dated. I'm so happy we chose Premiere Pros to help us. Kristen, with her eye for design, gave us great suggestions on paint color for both walls and cabinetry, and new countertops. She also suggested the removal of two awkward corner cabinets, transforming both the appearance and functionality of the kitchen island. The paint job on our kitchen cabinets, family room built-ins and master bath vanity was absolutely flawless. Kristen, Joe and their entire team are professional, meticulous, organized, creative and a pleasure to work with. It might seem a little scary to have someone come in, dismantle your cabinets and take away all the drawers and doors for painting. But fear not, these guys are true Pros!! C.O'Neill, Hingham MA Sept'20
---
My husband and I received a Premiere Pros paint consultation as a gift and it was certainly the gift that kept on giving. We first used Premiere Pros for our open concept condo. We thought since it was such a small space we would have to paint everything one color. Boy were we wrong! Kristin came to our condo and immediately knew what colors to choose. She had a beautiful vision and helped to chose 4 complimentary colors for our open concept condo. When we sold our condo, everyone commented on how beautiful the colors blended and the new owner even kept all the paint colors. We then moved to our new home and of course had to hire Premiere Pros again. They were the first people we contacted once we closed on our home. Kristin amazed us again with her vision and ability to take my ideas and suggest the perfect colors for every room in our house. I cannot say enough about Kristen, she is an expert at what she does and truly has a passion for it which does not go unnoticed. Her energy is infectious and we were so lucky to have found Premiere Pros! We will definitely be recommending Premiere Pros to all of our family and friends!
---
This is our 2nd project with Premiere Pros Kitchen & Design. We were so happy with their work painting our condo 5 years ago that when we moved, they were our first call! Kristen's eye for color transformed our home and she and Joe could not have been easier to work with.  Our 2nd project also included painting of our kitchen cabinets. We are thrilled with the outcome and would definitely recommend them. Kristen and Joe took our dark and dreary kitchen and changed it to our dream kitchen. If you are looking to transform your house into a beautiful home, do not hesitate calling Premiere Pros! D. Wannamaker, Rockland Feb '20
---
Premiere Pros painted our 26 year old cabinets, saving us thousands compared to refinishing them and the result is wonderful. We are very satisfied with the quality and the price. They gave a firm quote over the phone base on pictures I sent and a discussion we had. They gave great advice. Workers were diligent and professional. A very successful project that did not break the bank. Anonymous, Aug '19
---
I know it's been a while since I reached out. I wanted to connect with you to let you know that sadly my wife Kim passed away this November before Thanksgiving.  Kim's breast cancer had spread to her brain in April of 2018 and she quickly deteriorated this fall. Last year you and Joe helped us renovate our kitchen in Quincy.  This past year has been so busy for us with Kim's challenging health situation that I haven't had the time to say proper thank you as I would have liked.  The renovation was a fun project for us and it made Kim so very happy.  She would beam with joy each time she walked into our new kitchen. I wanted to let you know how appreciative I am of your help with making our Kitchen beautiful and with bring such happiness to Kim during a very difficult time of her life and our family's.  Thank you for your kindness, patience with my many questions, professionalism, attention to detail, quick responses, and for being such an amazing and engaging partner in our kitchen renovation.  This holiday season, I want to wish you, Joe, your family, and PremierPros a very Merry Christmas and all the best for 2019.  L.T.  Quincy, MA Nov.'18
---
We hired Premiere Pros to paint our 30 year old oak cabinets and wood work. Kristen met with us to review color swatches and gave recommendations on which colors would complement the adjoining rooms. She also gave me great advice on flooring options for my kitchen and adjoining rooms and upgrades/options for my cabinets (hidden hinges, crown molding). Joe and his crew did an amazing job. Our 30 year old cabinets look brand new!! We love our "new" kitchen! We are very happy with their finished work, service and price. A. Maguire, Abington Jul '19
---
My kitchen cabinets were in excellent shape but the whole kitchen needed a facelift. Choosing new floors, countertops, appliances etc. was easy but I struggled with my cabinet options. I had plenty of storage and they were in excellent condition. I was worried that if I had them painted they would not look like the high quality they were and that the paint would chip. I thought I would have to have them done with chalk paint for durability but really did not like that look. I found Kristen and Joe and am so happy I did! They were professional, knowledgeable and easy to work with. The price was very competitive and worth every penny. The finish is exceptional and I love my kitchen once again! K. Balzarini, Hanover Jun '18
---
We are very pleased with the kitchen cabinet refinishing work by Premiere Pros. Kristen was especially helpful in the initial consultation and follow-up visits with suggestions for color selection and other decorating ideas to complement the new look. Joe and his team were professional and provided high quality work, both on the doors that were removed to the workshop, as well as the hand-painted cabinet frames in the kitchen. We are quite satisfied.  B.Ruggiero, Plympton  Dec'18
---
Kristen and Joe from Premiere Pros are not only the most amazing couple, they are extremely personable and at the same time truly professional. We were remodeling our kitchen and as part of that wanted to have our cabinets painted. They came over to our house and from the get go owned the project like it was their own house. They turned our skepticism of painting previously stained cabinets into an amazing experience. They worked with us on our tight timelines, helped us pick out the right color, worked with us when we had a change of mind on the color shades, and not only timely finished the project, but also gave us tips to critique their work. Their end product was nothing short of perfection. Our newly remodeled kitchen is a much more welcoming portion of our house than it was ever before, and a huge credit goes to them! I would recommend Premier Pros in a heartbeat to anyone considering kitchen remodeling, specially for cabinet handling. I am thankful to them for their amazing work!  B. Sahrawat, Norwell  Jun'18
---
We are very happy with the professional job Premiere Pros did painting our dark cherrywood cabinets white! Family and friends cannot believe they are not new. We were apprehensive about taking this route but after reading reviews on Houzz as well as word of mouth, this company's name kept popping up. Kristen, Joe and their team are courteous, considerate, knowledgeable, and professional. From our first encounter to our final installation, we received nothing short of excellence!  Kristen arrived with swatches and quickly culled the list to her recommendations. Who knew there were so many shades of white? She condidered not just our flooring, lighting, and countertop but any adjoining rooms. I was still a bit apprehensive and they were able to have us view this color on cabinets at a previous client's home. We were sold.   They were always upfront, honest, true to their timelines and just really nice people.  We hope you consider them, you will not be disappointed!  N. Clifford, Braintree  May'18
---
Fabulous results!. Between word of mouth and houzz reviews, were convinced we should hire this company and so glad we did. From our first email exchange until the completion of the project everything was nothing short of professional. We were very nervous about painting our dark cherry cabinets white even though we wanted to. Kristen immediately put us at ease and confirmed how perfect they would look when completed. She explained and priced the job perfectly. She took the time to consider our lighting, flooring, countertops, and adjoining rooms and immediately narrowed down to two of the white color choices. Who knew there were so many shades of white? Still unsure of the color, they connected us with a local homeowner that was willing to show us thier recently painted cabinets with the same color tone. Done deal!   Joe, Kristen, and their entire team are nothing short of professional, courteous, and very considerate, in every way, throughout the process. They showed up when the said, always confirming and considering our schedule.  Anonymous, Braintree  Jun'18
---
I hired Premiere Pros to refinish the doors and drawers of my natural oak kitchen cabinets. They are about 20 yrs old and the polyurethane finish was worn in places from normal wear and tear.  They came took off the doors and drawer fronts and brought them back 3 days later. They reinstalled them within a couple of hrs and they look great! I am be very pleased with the work, the service and the price!  I give them 5 stars.  F. Hahn, Hanover  Mar'18
---
Hired premiere pros for a cabinet refacing job. Pleasure to deal with from beginning to end. Kristen has some wonderful ideas and saved me quite a bit of money with her suggestions.  Joe and his crew did an amazing job. Place was left spotless, everything came out as expected. Joe also worked some magic repairing a cabinet door for me which I thought would be impossible..   M. Kabongo, Abington     Apr '18 '
---
Our kitchen had high-quality Thermoseal cabinets that were 20 years old. They had yellowed with time and were very drab. We had Premier Pros paint a drawer front as a sample for us. The results were so amazing that we hired them to do the whole kitchen, butler's pantry and mudroom cabinets and drawer fronts. Our kitchen has never looked so good. It is a welcoming bright space now. We know it has added a great deal of value to the house. We were very pleased and the whole project was handled very well. We highly recommend this company.  J. Doyle, Pembroke Aug'17
---
Joe and Kristen we wonderful to work with, they were accessible and helped every step of the way. Their workers we extremely professional and very much perfectionist. My kitchen cabinets look amazing, I am so happy and it was so worth it!!!  M. Sullivan  Aug'17
---
Joe and Kristen run a top notch business! Kristen is prompt and courteous and gave me some great ideas on how to design my new bathroom cabinets as part of my bathroom remodel. What I liked most about dealing with Kristen is that she didn't try to sell me on going with them, but rather, she presented options and even told me to consider buying them on line because of the size. In the end, I went with them because I felt they both deliver good old fashioned, honest, service and my cabinets look awesome! Joe had to come back for a slight adjustment on one of the doors and quickly fixed it. They both have a warm and customer-caring attitude. I would so rather do business with them than going to a Big Box store which is impersonal and doesn't deliver the quality craftsmanship you'll get from Premier Pros. It's a well run family business with professional values. Highly recommend them.  M. Balboni, Stoughton  August'17
---
Excellent job, very professional. So nice and easy to work with. Work done in timely manner, always cleaned up. Love my new kitchen cabinets and paint.  R. Foley, Milton   June'17
---
Kristen, Joe & Tim did a fantastic job. Painted old oak kitchen cabinets and counters with glass panes. Installed new hardware and it looks like a brand new kitchen. Great quality, very professional and helpful in making recommendations that saved us some $'s. Very respectfully of the house and left it spotless at the end of each day. Highly recommend.  W. Dinicola  Norwood May'17
---
Wow, Kristen, what a fabulous job you all did, both the painting, and the clean up! I am SO going to recommend you to my brokers, my boss and everyone I know!  Thank you SO much for how quickly and wonderfully this job was done!  You guys are so wonderful!  Above all, thank you for your cheery, can-do spirit which gave me new energy when I was about to drop dead from discouragement and exhaustion. You've given me strength again. You jumped to help, gave me advice, brought in fabulous painters and did the job quickly. I am so going to be your best advertiser from here on out. God bless you both, you are awesome.   Karen, Braintree     Sept '16
---
Dear Kristen
Joe and Kristen were a pleasure to work with. They responded immediately to all of my many emails and telephone calls. Their workmanship was excellent. They are "PROS!"   Elaine, Weymouth MA  Aug '16
---
Dear Kristen
We just had our kitchen cabinets painted, Kristen and Joe were great to work with. Kristen, was very helpful with color and design tips, and Joe is very knowledgable and skilled with the painting process. We are vey satisfied with the end result, it totally transformed our kitchen!  Donna, Hanson, MA  July '16
---
Dear Kristen
We wanted to thank you for the outstanding job your crew did at our house. The room is beautiful, and the guys were professional, hard working and very helpful. You have an outstanding team. We will definitely call when we are ready for our next paint job. Thanks to Jaden for his note. Have a great summer.
Deanne and Mary Jane, W. Roxbury June '16
---
It's always a pleasure doing business with the two of you. Would you believe that you first did work for me seven years ago!! I think this is now the sixth job. Joe originally painted my entire condo, and then he did the separate projects for the kitchen cabinets and in the bathrooms. He also did the two jobs for the condo association for the lobby and then the rest of the building. It's so nice to have contractors one can rely on and trust.  T. Edgar, W. Roxbury, MA  March '16
---
We have owned 6 homes in 44 years and for the first time, we had a great experience with interior painting working with Premiere Pros.  Kristen was very helpful in helping us select, what turned out to be, the appropriate colors.  Eddie and Andy, the two painters arrived on time every day, they were polite, professional and went out of their way to please. All of their materials were neatly organized at the end of each day.   Our furniture, carpeting and personal items were well protected.  Joe was honest in his dealings with us. We liked the way they presented the cost of the project.  It included the cost for each item within the project  This gave the client a full understanding of how the cost was determined and an option to delete, not do, for example, painting both sides of doors.  We will highly recommend Premiere Pros to anyone looking for a painting contractor.  D. Solomon, Braintree, MA  Nov 2015
---
I just wanted to let you know how happy we are with our kitchen. Joe did an amazing job. We are extremely happy. It was an amazing transformation. We can't thank you both enough for all of your hard work. We'll be sure to pass along your names. Thanks again!  I have attached photos of the transformation. M. Hill, Hanover, MA  Oct 2015
---
It was a pleasure working with you.  We don't often give recommendations but your service and knowledge were outstanding. J. Andrews, Bridgewater, MA  Feb 2015
---
I went back and forth for months over what to do with my kitchen cabinets. I had gotten several estimates for replacing them (they are from the 60's), re-facing them and painting them. I've painted kitchen cabinets myself in the past, and it's a long process so I decided to hire someone who could spray them for a more durable finish. Premiere Pros didn't have the lowest estimate, but I went with them because they were so prompt in their feedback and Kristen provided excellent customer service from my initial contact by email.   Joe is meticulous. I've read reviews that made similar comments, but I didn't really believe it because I'm fairly meticulous myself and have learned not to expect others to live up to my standards. I was wrong. After a long consult in my home, and some back and forth discussion, Joe decided that he could redesign the cabinet fronts to make them look better, at a lower cost than replacing all the doors. He did. We also talked about paint colors. I love home design, crafting, and decorating so I thought I knew exactly what I wanted. He gently led me in a different direction, and I'm so glad I listened. It was the right choice. Joe also fixed some minor things that were well outside the scope of his estimate, without charge. And lastly, while it might seem minor, it was not – Joe and Kristen communicated with me constantly. I've dealt with many contractors who put you at their mercy in terms of scheduling, the work itself and the follow-up details that usually never get fully completed. Kristen and Joe stayed in touch, and I always knew what the next step was and when it would occur. A kitchen job can cause a lot of upheaval – cabinets must be emptied, appliances can't be used and dust must be kept to a minimum. He cleaned up each and every time he left the house. I honestly did not feel much inconvenience at all. Once the cabinet boxes were painted, I was able to put things back into the cabinets to await the refinished doors. The doors were installed, touch ups were made and the job was completed! My mind is racing now thinking of what other cabinetry I could have Joe tackle – built-ins for the living room fireplace wall, a corner bench with storage for the kitchen nook….finally I have a contractor that I trust. Hallelujah!
SP, Milton, November 2014
---
Top notch work. Joe's work ethic is outstanding. He is always moving…. picking out details no one else would even think of, and blending them in to make them disappear yet make the whole job seem flawless and so enjoyable to the eye. He is a perfectionist, a true professional. Both Kristen and Joe have made Pam and I very happy, with outstanding color selections, fantastic energy and problem solving skills. Our home has been transformed into a masterpiece Thank you Kathleen for suggesting Premiere Pros" Dave, Marshfield, MA,  June 2014
---
As an interior decorator, I have high expectations.  Joe and the team meet these expectations.  I had them do work in my home several times and because Joe has carpentry and finish work background, he was able to do crown molding, shelving, mirrored closet doors and other add-on projects I needed.  R.W. Weymouth, MA May 2014
---
Kristen and Joe of Premiere Pros were fantastic to work with. Their customer service and quality of work was top notch. Their rates were very reasonable and they gave us the confidence that we could trust them working in our home. We hired them to repaint our kitchen and family room and to refinish several interior doors in preparation for listing our home for sale.The work in the kitchen involved repairing and repainting the cabinets from a deep blue (thanks to the previous owners) to a modern bright white. They also repainted the trim and walls. The work in the family room involved removing wallpaper and repainting the walls and ceiling. Finally, we had six interior veneer bedroom and closet doors that we had painted white. Kristen provided us with color recommendations and Joe did the carpentering and painting.   They were able to fit us in and complete the job in five days, just in time for the holidays, which is pretty amazing given the amount of work we wanted to get done. We highly recommend Premiere Pros and will look to them for our next home.  J.H, Braintree, MA Dec'13
---
I first hired Premiere Pros about 4 1/2 years ago when I wanted to have my condo completely repainted. They were referred to me by another business owner who told me that they had painted his daughter's home, and she was extremely impressed with the quality of the work. So was I! They did a beautiful job in every room of my home. Over four years later it still looks like it was painted yesterday. I am on my condo board, and two years ago we decided to have our lobby repainted. It was not an easy job, because old wallpaper had to be removed first. I recommended to the other board members that we use Premiere Pros. Kristen met with us first to choose a color scheme (she was great!), and then Joe did the work. There are 24 units in my building, and every single owner was thrilled with the final product. There wasn't a single complaint about anything, and all the residents loved the new look. He was incredibly respectful of the needs of the owners, and everyone loved his friendly approach. We now have hired them again to paint all the hallways and stairwells. We didn't even bother to get a second estimate. We know that the quality of the work that we are going to get will be very high, so we saw no need to explore the issue with an unknown contractor. Plus, I think that their rates are very reasonable. One of my neighbors loved the lobby work so much that she is now having them paint her entire condo, and Joe also is going to repaint her kitchen cabinets. I became so inspired by what he is going to do with her cabinets that I have now I made an appointment with him to investigate a new look for my cabinets as well. It's so great to find a contractor you can trust who you know places such a high value on quality work. At this point, I would not even consider another contractor to do home projects other than Premiere Pros.  T. Edgar, W. Roxbury, MA – Sept'13
---
Premiere Pros is coming out to paint our kitchen cabinets the week of Nov. 18, 2013. This is the 2nd time we are using them. They are professional and do an excellent job. Kristen offered to do a color consult with me if I needed one and Joe is always extremely neat and careful to cover all built in furniture that can't be moved before the painting begins. I am very confident that they will do a beautiful job.  L. Perkins, Hanson, MA  Oct'13
---
The crew is awesome.  They are neat and clean up after the job is done. I have used premiere pros twice and I would recommend them to anyone who wants painting.  Joe, who owns the company, always come to check and see the job midway through and after the job is done. Thank you Premiere Pros, see you guys in the spring!  M. Franey, Abington, MA  December '12
---
I have had Premiere Pros do work at my home for two projects since the Fall and cannot say enough about what a great job they've done. Joe (the owner) is extremely knowledgeable and definitely did what we asked. We were so pleased with his work we hired him again to do some renovations, along with more painting and I am very pleased at the end result. I would definitely recommend Premiere Pros. Joe is a perfectionist so you will not be disappointed. Thank you Joe & Kristen (who is an absolute sweetheart too).  A. Rollock, Norwood, MA January '13
---
We came home to a beautiful front entry. We love all the colors that Kristen selected. They are traditional, but still have a modern updated look (without being fluorescent). Kristen was very attune with our likes (and dislikes) and really listened to what our vision was for our home. Joe gave a lot of input from the technical aspect of color & what would work/not work. The colors are all from the same palette and really do blend from one room to the next, but still give each room an individual feel. The bead board at the breakfast bar came out GREAT! The kitchen looks so nice with the granite that we just put in and really gives that blended look we wanted. Kristen followed up with us several times after the paint to see how things were working out. The colors have been very easy to match with window treatments and wall-hangings, etc. I didn't even need to have the interior designer back (I spent THOUSANDS of dollars on an interior designer and Kristen and Joe gave me more advice in one hour than they did in MANY hours because they LISTENED to their customer).
---
In my estimation, good businesses occur due to the passion of the people who own them, for the product or service that they sell. With the husband and wife team of Kristen and Joe, you'll get that in spades!
J. Wesolowski – Minerva's Owl, Roslindale
---
Hi Kristen,
After you left, Cami made some drawings.  She plays a game called "The Color Lady" and was so tickled that there was a real-life 'color-lady'.  I will be emailing you pictures of the house soon.  It is almost decorated.  I love the colors even more once our window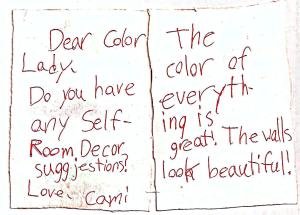 treatments were up and wall hangings.  Thanks again!
M. Tuffile, Dighton, MA  April 2012
---
Premiere Pros was a pleasure to work with. Kristen was a great help when it came to picking out colors and Joe is such a perfectionist that you know you are only going to see good, quality work! I would hire them in a second if I needed painting done!
---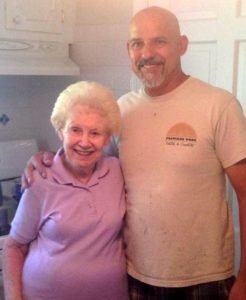 Hi Kristen, Just want to say I am very pleased with the color in both rooms.  The neatness and order in which it was done and everything put back in place.  I am so glad to have met with  you and Joe.  Joe did such a good job on the front door that it opens and closes and opens so well! Thank you very much!  Edna Jordal, Randolph, MA  March 2012
---
Excellent, personalized and honest service. Highly recommended.  R. Bloom, Quincy, MA  December 2011
---
"We are extremely happy with the work done by Premiere Painting & Renovations and would reccomend them without hesitation. It is rare to find such quality work as was done by this company and we couldn't be happier. We were very impressed with the prep work performed before painting and the professionalism shown throughout the project. thank you"
Bill & Loretta Carter, Quincy, MA,  November 2011
---
"Premiere Pros just finished painting our bathroom. There had been a leak in our ceiling.  Premiere came and patched and repaired the damaged ceiling.  They were great at taking extra care in preparing the work site.  They taped and covered everything, painted and cleaned up. A day later there was no way to know they were there except for the fact that everything was new and perfect!"
Renee and Barry Gordon, Quincy, MA, February 2010
---
"Kristen and Premiere Pros provide outstanding service from start to finish. I recently hired them to paint the interior of my entire house. Kristen was terrific with returning my calls and also provided a complimentary color consultation. She has an excellent eye for color and just seems to know what will "work". I have had several compliments including "wow–love it!" about the color she picked for my living room. Am very pleased that I hired Premiere Pros to paint my home and would use their services again, thanks to the outstanding services Kristen provides coupled with the expert painting services of her husband, Joe Hernandez."
Cheryl Arlanson-Russo, Hingham, MA, December 2009
---
The guys did SUPERB work, Kristen.  The workmanship, and work ethic of Joe and the guys was beyond belief, and their work was, again THE BEST.  Also, Joe was good enough to complete the job for me EARLIER than I had expected, and within TWO days.   They worked their butts off, and I'm very, very grateful. I thought they were AWESOME and I would be more than happy to give glowing recommendations to anybody who wishes to call me as a reference.  Many thanks.
Ann Nicholson, Dedham, MA  June 2009
---
"My experience with Premiere Pros was outstanding from start to finish.  They came recommended to me by someone whose daughter had just hired them for a job.  On a Saturday afternoon, I went to their web site and used the Request a Quote function to get more information.  Within an hour of sending the request, Kristen called me.  She set up an appointment for Joe to come to my home within the next few days.  When Joe arrived for the estimate, I immediately appreciated his professional approach and great attention to detail.  He drew up the estimate on the spot.  Because I felt confident in him and the quote was reasonable, I agreed to hire Premier Pros right then.  As a free service, Kristen came the following day to provide advice on color selection.  Because I was repainting every room in my condo, there were many choices to be made.  She was extremely patient in going through room by room to make sure that the color selections would make the place look as great as possible.  She has great taste and a fine eye for color combinations.  When the actual painting began, the crew was extremely courteous and careful to make certain that the job was completed to perfection.  When they finished, I was absolutely thrilled with the work that they did.  The place looks beautiful!  I would hire Premiere Pros again in a second."
Tim Edgar, W. Roxbury, MA  March 2009
---
"I can't believe how much I love it!  Its exactly what I wanted!!!  We worked so together in designing it so it captured everything that I wanted it to be for his room.  It fits my motto to a tee!"  "A place for everything and everything in its place".  And as usual, Joe went above and beyond with extra touches and finishes.  Thanks so much!  My only regret is that I didn't have him do it years ago!
Margie Saliba, Braintree, MA February 2009
---
"Premiere Pros did a great and thorough job and has a very professional and personable crew."
Jennifer Sabatini, Hingham MA – October 2008
---
Dear Kristen,
"Enclosed is a token of appreciation for your expertise in assisting me with finalizing the color solution for my home. Your talent proved to be invaluable to me in making a decision. I'm truly grateful for your time and kindness."   Most sincerely,
Katie Jones, Weymouth, MA – October 2008
---
"Thoughtful customer service and exquisite attention to detail. The quality workmanship has transformed our house."
John and  Lindsay Peterson, Milton, MA – September 2008
---
"We were referred to Premiere Pros by a local contractor and we will be forever grateful to him. Kristen and Joe are quite a team. From our initial call, things could not have gone more smoothly. Within a matter of days Joe arrived at our house in Hanson and gave us a very reasonable estimate for the work we wanted done. My husband was very impressed by Joe's professionalism, and we took him up on a number of suggestions that he made. Within a short time the job was done and we were thrilled with the outcome. We will surely call Premiere Pros the next time we need any painting done….Thanks, Kristen and Joe!"
Paul & Cathy LeFrank, Hanson, MA – October 2008
---
"This past summer I had my house painted by Premiere Pros. I can offer only positive praise for Premiere Pros. Joe Hernandez, the head of the company, took a lot of time discussing the job with me, pointing out specifics on different areas of the house, and making suggestions. During the job, any time a concern was pointed out by my husband or myself, he listened and immediately attended to it. The group on the job were very detail oriented, very professional, and a pleasure to work with. I have worked with three painting companies (each falling into different price ranges) since living in my house. Premiere Pros were by far the best company I have worked with. Most professional, most attentive to detail, most knowledgable, and best job done. This company earned the price of the job. As a side note: my house had a new roof installed just prior to getting painted. Joe identified a leak that we had not noticed on our porch roof. We were then able to get the roofing company to fix the leak. Had this continued to go unnoticed, we likely would have had water damage to contend with. "
Susan Treichel, Braintree, MA – September 2008
---
"Having owned multiple homes over the last 35 years, I have had my house painted several times. Most were done adequately, but one was done poorly enough to make me skeptical of the promises that some companies made. But that has all changed. I recently hired Joe Hernandez and his Premiere Pro crew to paint my house. They didn't paint it…They transformed it! My 25 year old home looks like it was newly built. The attention to detail, the care and the overall neatness gave me a result that I could not have expected. I won't have to paint my home for a while, but the next time I do, there is only one company I will turn to. Premiere Pros!"
Bob Kustka Norwell, MA – July 2008
---
"They were unbelievable!! The quality is unmatched and they were so helpful from the get go! Joe came out and did his thing and we had an estimate that night which was 50% less than other contractors, So with the money we saved we had them do a second room. All the suggestions they made have made both rooms look amazing. From a quick response to the cost saving estimate to helping us pick colors it has been a great experience! Not only do we recommend them we will being using only them for future house projects, we have found our contractor for good!! Thank you guys.
Chris Dowd, Weymouth, MA – March 2008
---
"We had an EXCELLENT experience with Premiere, we ended up hiring them for a remodeling project as well. What was great was that they were able to get all the painting and remodeling in 4 days, that was huge!!"
Lisa Mello, Pembroke, MA –  January 2008
---
"EXCELLENT: This was a challenging paint job as my parents home was built in 1924 and the walls needed some work. The rooms that were painted had been wallpapered in 1970 (dining room) and 1983 (kitchen), Premiere did an exceptional job with the walls!! My parents are thrilled. In addition, I would like to note that my parents are 84 and were apprehensive before the work started. The crew working at the house are very professional. My mothers words when she saw the finished dining room was "this looks sensational." Not only would I highly recommend Premiere, but we also hired them to paint my mother in laws."
Anne Rice, Braintree, MA – February 2008
---
"Another fantastic job by Premiere!"
Bill & Becky Mattey Cohasset, MA – January 2008
---
"Premiere Painting and Renovations is outstanding. They're price was competitive, but the service, attention to detail, and overall quality of workmanship was truly superior. Joe went out of his way to do extra tasks for us to coordinate work that was being done and it was truly appreciated. We also discovered that this company does more than just finishing work (for which we initially hired them). They also installed wide-plank pine flooring for us in a new addition and did some of the finish carpentry. We are very pleased and will certainly call them first for future renovation projects."
Bill Bosl Canton, MA
---
"We were looking for an experienced finish carpenter with a creative vision to build our custom media center. Since we live in an 1880 farmhouse, we wanted a classic style to suit our home, and a team who could work with our uneven walls and floors. Ken and Jack were extremely professional and went above and beyond any contractors we've ever hired. They met with us on several occasions and answered countless emails to ensure we were completely satisfied every step of the way. They were quite knowledgeable about things we hadn't even considered like lighting and hardware. The finished cabinetry is gorgeous and the craftsmanship is superb. Thank you!"
John and Tracy Gage Norfolk, MA – December 2007
---
"I just want to say what a nice job Joe did in my house! He is such a perfectionist! I was very impressed! He was also so patient and kind with his assistant. What a nice guy!! I am very happy with his work and would definitely use him again and refer him to others!"
Sheela Calhoun Hingham, MA – November 2007
---
"Great experience, prompt, affordable and accomodating!"
Nancy Connolly  Marshfield, MA
---
"Joe is an excellent carpenter and professional. He discovered some challenges installing my doors and cleverly developed innovative ways to deal with the stone wall that was "mysteriously" hidden between the plaster. We plan to use him in the future."
Jennifer Moyer  Hingham, MA
---
"We have been using Premiere Pros' services for approximately a year and a half, and we have been very satisfied with their service. Our customers are consistently happy with the repairs made to their homes, and the turnaround time on service is very fast. We pride ourselves on customer satisfaction, and in the event a customer's home has been damaged during delivery it takes that much more effort to ensure satisfaction. Premiere Pros has been invaluable in assisting us to reach this goal. We look forward to our continued business with Premiere Pros, and would recommend them to anyone in need of quick and efficient service and outstanding workmanship."
Eric Maurer, company name withheld – August 2007
---
"We highly recommend Premier Pro's. Kristen and Joe are a fabulous team. Joe came out quickly and did the work we needed within a week! He offered great service, a great price and went above and beyond with his straight forward approach by offering us tips on what colors are 'in style' as well as clueing us in to 'tips to help us sell' our house. His skill, coupled with his experience and knowledge, make for an impressive worker. We have recomended him to many already and we plan to have him work for us again once we settle into our new home."
Delores Shea Weymouth, MA – May 2007
---
"I just wanted to sincerely thank you for the work that you did on our house. The kitchen and bathroom look AMAZING. Theylook even better than I could have imagined. Please extend our thanks to Joe for his excellent work and professionalism. We really appreciate it and would recommend your company wholeheartedly."
John and Ginger Lemay Easton, MA – March 2007
---
"Very satisfied with the work, price and communication throughout the project. Joe is a person of high integrity and I will utilize Premiere in the future."
Stephen Abreu  Norwell, MA – September 2007
---
"Premiere Pros did an excellent job on my deck. Just like a smooth presentation, Joe explained what he was going to do, executed the job, and in the end explained what he did. First Class service for a reasonable price."
Paolo Tantuco, West Roxbury, MA
---
"I was completely satisfied with Premiere's work and absolutely will not hesitate to call them for future home improvement projects."
Nakisha Skinner Roslindale, MA
---
"Premiere did a wonderful job painting the interior of my home. They were organized, detail-oriented, and honest. I would hire them again in an instant."  Bill & Becky Mattey, Cohasset, MA.