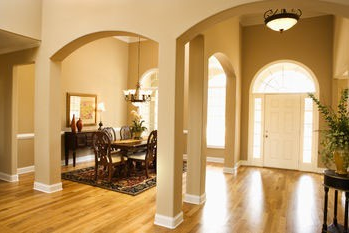 Hingham homeowners who require high-quality home improvements will appreciate our team of professional painters. Our company is dedicated to providing the best service and aesthetic options to homeowners in the Bridgewater area. Our services cover a variety of improvement options, and we have the final results ready for viewing in our online gallery. We are proud of our work and we are heavily invested in pleasing every client.
Consult a Professional Painter in Bridgewater
Consultation services can be critical to the final appearance of the home. There is much more to a great-looking interior and exterior than just selecting a great color scheme. The overall architecture and layout present subtle clues as to what kind of color scheme would enhance the home's most appealing attributes. For example, the front entrance of a home requires a significant amount of consideration. It creates a first impression, which tends to be a lasting one. This impression is immediately followed by the next room. Therefore, these two spaces should really be treated as a single environment, and our color consultant has the knowledge and expertise necessary to produce a stunning result.
Enjoy a variety of other services for home improvements:
• Interior and exterior painting
• Extensive color palettes
• Doors, windows and cabinets
• Carpentry and finishing work
Premiere Pro is an unusually insightful business because it was founded by a team of homeowners. After acquiring several decades of experience, we transformed the best methodologies into a business. The company was founded on the principle of treating each client's home with the same care given to the founders' own home. The work team is trained to produce high-quality results in a minimal amount of time. We hire qualified and experienced experts to do the work, and we are certain that you will be amazed at the final outcome. For stunning results, and to create a lasting impression, contact the professional painter Bridgewater team at Premiere Pro.