Premiere Pros has painted and refinished hundreds of cabinets and with wonderful reviews!  Whether it's refinishing to a new wood finish or painting to give them an updated look, we are confident you'll love the results.  The best part?  It's a fraction of the cost of new cabinets.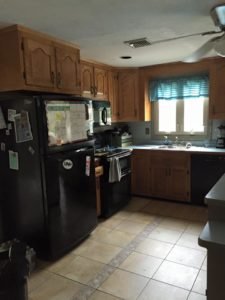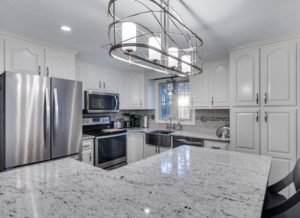 If you're like many homeowners, you plan to keep the existing layout of your kitchen exactly the same but wish to renew and update its look.  Cabinet refacing, also known in the industry as cabinet resurfacing, lets you keep your existing kitchen intact while completely transforming its appearance.In most cases, cabinet refacing is the superior choice to gutting your kitchen and installing all new cabinets. Not only will this save a lot of time and mess, but it will also save you about half the cost of new custom cabinetry.  Since your choice of new cabinet doors is included, this means that eighty percent of what everyone sees in your kitchen will be brand new. It just makes sense!
If your kitchen is well-built and functional there is no reason to tear it all apart.  Even if you need more storage space, a cabinet reface can be combined with additional matching cabinetry that we build specifically for you, so that you can have a complete, fresh new look.  Pantries, desks, extra cabinet units or even a free-standing island can be custom made by our cabinet shop.  Plus, you'll be able to choose from hundreds of color and style combinations in both wood and color.
Contact us for a Free Cabinet Restoration Quote
Call (781) 849-0078 or fill out the form on this page for a free evaluation of your Bridgwater cabinet restoration project.
Specify the Appearance:
Select any color or stain
Sheen level (Satin finish is recommended)
New hardware, if desired
New door and drawer styles
Dust Free Process
No mess of demolition
Venting
All surfaces protected
Cost Savings
Refinishing cabinets is a fraction of the cost of replacing them.  Savings from demolition, installation and other trades work.
New cabinet doors and drawers can be replaced at a significant savings as well
Premiere has partnered with a top cabinet door manufacturer to ensure quality and cost savings
Anywhere
Premiere cabinet painting systems can be applied to vanities,  book cases, entertainment centers and built-ins
[caldera_form id="CF59bd827e820b7″]