Our Story:  Joe Hernandez & Kristen Ford-Hernandez
Joe
My life changed dramatically when I met my wife, Kristen in 2005 and I haven't looked back since.  A single mom, she had hired me to paint her daughter's room.  I had started in the trades when I was 15 years old, framing houses during the summer.  In my twenties, after having developed finer skills in the trades, I decided to try my hand making furniture and auto upholstery.  I made a business of it and thoughtit was great that I could make a living at doing something I love: just making cool looking stuff that people liked!  It was, unfortunately, a dying art;  so, I decided to break away from that after many years and re-enter into the trades, painting and carpentry specifically.  I welcomed the change, as it put me back out in the world again, seeing and interacting with people. Now, whether I'm on the job or on the road, I'm glad I made the change.
After all, it's how I met Kristen.
Kristen
In 2005, I decided to call in a professional company to tackle some much needed home improvement projects. Joe was the second contractor to meet with me and discuss the job in detail, helping me to understand what constitutes a quality job.  It didn't take me long to appreciate his honesty and great work ethic.  I did not realize at the time that I had just hired my future husband.
Back then I was working full-time for a local software company, in a 100 percent commission-based Sales Executive position.  Supporting my two children, then 12 and 10, it was at times challenging. Joe approached me with the idea of going into business together and starting our own company, Premiere Pros.  Having  more than 20 years experience in Sales and Customer Service, I created a clear vision of what I wanted to bring forward into the business — which is to provide a high level of service and develop long-lasting relationships with our customers.
I have always loved working with people, and I have a passion and love for the architectural design of homes in New England. Through continual researching of products, I have learned a lot about colors and I keep abreast of the latest trends and styles to enhance people's homes.  Whether we make a simple changing of color for a room, or I am helping our customers pick out tile or lighting fixtures to complement the color scheme, I love the joy it brings to homeowners when they see their room transformed.
Together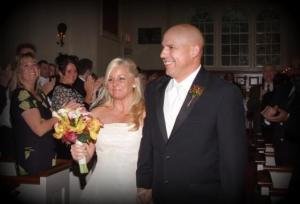 With Joe's expertise in finish carpentry and painting, and with Kristen's 15 years in sales and marketing, the new company succeeded from the outset.  In fact, this synergy of talents really sets Premiere Pros apart from other companies in the same business.  Together, they give so much more in quality work and service.  Both Kristen and Joe work hard for the greatest satisfaction for their customers as they enhance their homes..  Kristen's sense of style and space augments her knowledge of colors and interior design, giving her customers a unique value through   the no-charge color consultations that she offers.  She even advises on furniture placement in your rooms!  This "exceeding expectations" level of service has proven invaluable in helping her customers to choose a color they will love.
In addition to raising her family and marketing Premiere Pros, Kristen serves on the Board of Directors at the Dianne Devanna Center in Braintree, and she is a proud member of the South Shore Women's Business Network.  Both Kristen and Joe are committed to networking with like-minded professionals; and as a result, they developed an elite list of qualified individuals and companies to whom to confidently refer their clients when they request additional kinds of services.
Kristen and Joe believe that good business practices result from the passion that those who own them apply to their work.  With the husband and wife team of Kristen and Joe, you'll get all that and more!