As an interior decorator, I have high expectations.  Joe and the team meet these expectations.  I had them do work in my home several times and because Joe has carpentry and finish work background, he was able to do crown molding, shelving, mirrored closet doors and other add-on projects I needed.  R.W. Weymouth, MA May 2014
---
Kristen and Joe of Premiere Pros were fantastic to work with. Their customer service and quality of work was top notch. Their rates were very reasonable and they gave us the confidence that we could trust them working in our home. We hired them to repaint our kitchen and family room and to refinish several interior doors in preparation for listing our home for sale.The work in the kitchen involved repairing and repainting the cabinets from a deep blue (thanks to the previous owners) to a modern bright white. They also repainted the trim and walls. The work in the family room involved removing wallpaper and repainting the walls and ceiling. Finally, we had six interior veneer bedroom and closet doors that we had painted white. Kristen provided us with color recommendations and Joe did the carpentering and painting.   They were able to fit us in and complete the job in five days, just in time for the holidays, which is pretty amazing given the amount of work we wanted to get done. We highly recommend Premiere Pros and will look to them for our next home.  J.H, Braintree, MA Dec'13
---
I first hired Premiere Pros about 4 1/2 years ago when I wanted to have my condo completely repainted. They were referred to me by another business owner who told me that they had painted his daughter's home, and she was extremely impressed with the quality of the work. So was I! They did a beautiful job in every room of my home. Over four years later it still looks like it was painted yesterday. I am on my condo board, and two years ago we decided to have our lobby repainted. It was not an easy job, because old wallpaper had to be removed first. I recommended to the other board members that we use Premiere Pros. Kristen met with us first to choose a color scheme (she was great!), and then Joe did the work. There are 24 units in my building, and every single owner was thrilled with the final product. There wasn't a single complaint about anything, and all the residents loved the new look. He was incredibly respectful of the needs of the owners, and everyone loved his friendly approach. We now have hired them again to paint all the hallways and stairwells. We didn't even bother to get a second estimate. We know that the quality of the work that we are going to get will be very high, so we saw no need to explore the issue with an unknown contractor. Plus, I think that their rates are very reasonable. One of my neighbors loved the lobby work so much that she is now having them paint her entire condo, and Joe also is going to repaint her kitchen cabinets. I became so inspired by what he is going to do with her cabinets that I have now I made an appointment with him to investigate a new look for my cabinets as well. It's so great to find a contractor you can trust who you know places such a high value on quality work. At this point, I would not even consider another contractor to do home projects other than Premiere Pros.  T. Edgar, W. Roxbury, MA – Sept'13
---
Premiere Pros is coming out to paint our kitchen cabinets the week of Nov. 18, 2013. This is the 2nd time we are using them. They are professional and do an excellent job. Kristen offered to do a color consult with me if I needed one and Joe is always extremely neat and careful to cover all built in furniture that can't be moved before the painting begins. I am very confident that they will do a beautiful job.  L. Perkins, Hanson, MA  Oct'13
---
The crew is awesome.  They are neat and clean up after the job is done. I have used premiere pros twice and I would recommend them to anyone who wants painting.  Joe, who owns the company, always come to check and see the job midway through and after the job is done. Thank you Premiere Pros, see you guys in the spring!  M. Franey, Abington, MA  December '12
---
I have had Premiere Pros do work at my home for two projects since the Fall and cannot say enough about what a great job they've done. Joe (the owner) is extremely knowledgeable and definitely did what we asked. We were so pleased with his work we hired him again to do some renovations, along with more painting and I am very pleased at the end result. I would definitely recommend Premiere Pros. Joe is a perfectionist so you will not be disappointed. Thank you Joe & Kristen (who is an absolute sweetheart too).  A. Rollock, Norwood, MA January '13
---
We came home to a beautiful front entry. We love all the colors that Kristen selected. They are traditional, but still have a modern updated look (without being fluorescent). Kristen was very attune with our likes (and dislikes) and really listened to what our vision was for our home. Joe gave a lot of input from the technical aspect of color & what would work/not work. The colors are all from the same palette and really do blend from one room to the next, but still give each room an individual feel. The bead board at the breakfast bar came out GREAT! The kitchen looks so nice with the granite that we just put in and really gives that blended look we wanted. Kristen followed up with us several times after the paint to see how things were working out. The colors have been very easy to match with window treatments and wall-hangings, etc. I didn't even need to have the interior designer back (I spent THOUSANDS of dollars on an interior designer and Kristen and Joe gave me more advice in one hour than they did in MANY hours because they LISTENED to their customer).
---
In my estimation, good businesses occur due to the passion of the people who own them, for the product or service that they sell. With the husband and wife team of Kristen and Joe, you'll get that in spades!
J. Wesolowski – Minerva's Owl, Roslindale
---
Hi Kristen,
After you left, Cami made some drawings.  She plays a game called "The Color Lady" and was so tickled that there was a real-life 'color-lady'.  I will be emailing you pictures of the house soon.  It is almost decorated.  I love the colors even more once our window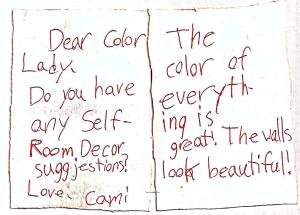 treatments were up and wall hangings.  Thanks again!
M. Tuffile, Dighton, MA  April 2012
---
Premiere Pros was a pleasure to work with. Kristen was a great help when it came to picking out colors and Joe is such a perfectionist that you know you are only going to see good, quality work! I would hire them in a second if I needed painting done!
---
Hi Kristen, Just want to say I am very pleased with the color in both rooms.  The neatness and order in which it was done and everything put back in place.  I am so glad to have met with  you and Joe.  Joe did such a good job on the front door that it opens and closes and opens so well! Thank you very much!  Edna Jordal, Randolph, MA  March 2012
---
Excellent, personalized and honest service. Highly recommended.  R. Bloom, Quincy, MA  December 2011
---
"We are extremely happy with the work done by Premiere Painting & Renovations and would reccomend them without hesitation. It is rare to find such quality work as was done by this company and we couldn't be happier. We were very impressed with the prep work performed before painting and the professionalism shown throughout the project. thank you"
Bill & Loretta Carter, Quincy, MA,  November 2011
---
"Premiere Pros just finished painting our bathroom. There had been a leak in our ceiling.  Premiere came and patched and repaired the damaged ceiling.  They were great at taking extra care in preparing the work site.  They taped and covered everything, painted and cleaned up. A day later there was no way to know they were there except for the fact that everything was new and perfect!"
Renee and Barry Gordon, Quincy, MA, February 2010
---
"Kristen and Premiere Pros provide outstanding service from start to finish. I recently hired them to paint the interior of my entire house. Kristen was terrific with returning my calls and also provided a complimentary color consultation. She has an excellent eye for color and just seems to know what will "work". I have had several compliments including "wow–love it!" about the color she picked for my living room. Am very pleased that I hired Premiere Pros to paint my home and would use their services again, thanks to the outstanding services Kristen provides coupled with the expert painting services of her husband, Joe Hernandez."
Cheryl Arlanson-Russo, Hingham, MA, December 2009
---
The guys did SUPERB work, Kristen.  The workmanship, and work ethic of Joe and the guys was beyond belief, and their work was, again THE BEST.  Also, Joe was good enough to complete the job for me EARLIER than I had expected, and within TWO days.   They worked their butts off, and I'm very, very grateful. I thought they were AWESOME and I would be more than happy to give glowing recommendations to anybody who wishes to call me as a reference.  Many thanks.
Ann Nicholson, Dedham, MA  June 2009
---
"My experience with Premiere Pros was outstanding from start to finish.  They came recommended to me by someone whose daughter had just hired them for a job.  On a Saturday afternoon, I went to their web site and used the Request a Quote function to get more information.  Within an hour of sending the request, Kristen called me.  She set up an appointment for Joe to come to my home within the next few days.  When Joe arrived for the estimate, I immediately appreciated his professional approach and great attention to detail.  He drew up the estimate on the spot.  Because I felt confident in him and the quote was reasonable, I agreed to hire Premier Pros right then.  As a free service, Kristen came the following day to provide advice on color selection.  Because I was repainting every room in my condo, there were many choices to be made.  She was extremely patient in going through room by room to make sure that the color selections would make the place look as great as possible.  She has great taste and a fine eye for color combinations.  When the actual painting began, the crew was extremely courteous and careful to make certain that the job was completed to perfection.  When they finished, I was absolutely thrilled with the work that they did.  The place looks beautiful!  I would hire Premiere Pros again in a second."
Tim Edgar, W. Roxbury, MA  March 2009
---
"I can't believe how much I love it!  Its exactly what I wanted!!!  We worked so together in designing it so it captured everything that I wanted it to be for his room.  It fits my motto to a tee!"  "A place for everything and everything in its place".  And as usual, Joe went above and beyond with extra touches and finishes.  Thanks so much!  My only regret is that I didn't have him do it years ago!
Margie Saliba, Braintree, MA February 2009
---
"Premiere Pros did a great and thorough job and has a very professional and personable crew."
Jennifer Sabatini, Hingham MA – October 2008
---
Dear Kristen,
"Enclosed is a token of appreciation for your expertise in assisting me with finalizing the color solution for my home. Your talent proved to be invaluable to me in making a decision. I'm truly grateful for your time and kindness."   Most sincerely,
Katie Jones, Weymouth, MA – October 2008
---
"Thoughtful customer service and exquisite attention to detail. The quality workmanship has transformed our house."
John and  Lindsay Peterson, Milton, MA – September 2008
---
"We were referred to Premiere Pros by a local contractor and we will be forever grateful to him. Kristen and Joe are quite a team. From our initial call, things could not have gone more smoothly. Within a matter of days Joe arrived at our house in Hanson and gave us a very reasonable estimate for the work we wanted done. My husband was very impressed by Joe's professionalism, and we took him up on a number of suggestions that he made. Within a short time the job was done and we were thrilled with the outcome. We will surely call Premiere Pros the next time we need any painting done….Thanks, Kristen and Joe!"
Paul & Cathy LeFrank, Hanson, MA – October 2008
---
"This past summer I had my house painted by Premiere Pros. I can offer only positive praise for Premiere Pros. Joe Hernandez, the head of the company, took a lot of time discussing the job with me, pointing out specifics on different areas of the house, and making suggestions. During the job, any time a concern was pointed out by my husband or myself, he listened and immediately attended to it. The group on the job were very detail oriented, very professional, and a pleasure to work with. I have worked with three painting companies (each falling into different price ranges) since living in my house. Premiere Pros were by far the best company I have worked with. Most professional, most attentive to detail, most knowledgable, and best job done. This company earned the price of the job. As a side note: my house had a new roof installed just prior to getting painted. Joe identified a leak that we had not noticed on our porch roof. We were then able to get the roofing company to fix the leak. Had this continued to go unnoticed, we likely would have had water damage to contend with. "
Susan Treichel, Braintree, MA – September 2008
---
"Having owned multiple homes over the last 35 years, I have had my house painted several times. Most were done adequately, but one was done poorly enough to make me skeptical of the promises that some companies made. But that has all changed. I recently hired Joe Hernandez and his Premiere Pro crew to paint my house. They didn't paint it…They transformed it! My 25 year old home looks like it was newly built. The attention to detail, the care and the overall neatness gave me a result that I could not have expected. I won't have to paint my home for a while, but the next time I do, there is only one company I will turn to. Premiere Pros!"
Bob Kustka Norwell, MA – July 2008
---
"They were unbelievable!! The quality is unmatched and they were so helpful from the get go! Joe came out and did his thing and we had an estimate that night which was 50% less than other contractors, So with the money we saved we had them do a second room. All the suggestions they made have made both rooms look amazing. From a quick response to the cost saving estimate to helping us pick colors it has been a great experience! Not only do we recommend them we will being using only them for future house projects, we have found our contractor for good!! Thank you guys.
Chris Dowd, Weymouth, MA – March 2008
---
"We had an EXCELLENT experience with Premiere, we ended up hiring them for a remodeling project as well. What was great was that they were able to get all the painting and remodeling in 4 days, that was huge!!"
Lisa Mello, Pembroke, MA –  January 2008
---
"EXCELLENT: This was a challenging paint job as my parents home was built in 1924 and the walls needed some work. The rooms that were painted had been wallpapered in 1970 (dining room) and 1983 (kitchen), Premiere did an exceptional job with the walls!! My parents are thrilled. In addition, I would like to note that my parents are 84 and were apprehensive before the work started. The crew working at the house are very professional. My mothers words when she saw the finished dining room was "this looks sensational." Not only would I highly recommend Premiere, but we also hired them to paint my mother in laws."
Anne Rice, Braintree, MA – February 2008
---
"Another fantastic job by Premiere!"
Bill & Becky Mattey Cohasset, MA – January 2008
---
"Premiere Painting and Renovations is outstanding. They're price was competitive, but the service, attention to detail, and overall quality of workmanship was truly superior. Joe went out of his way to do extra tasks for us to coordinate work that was being done and it was truly appreciated. We also discovered that this company does more than just finishing work (for which we initially hired them). They also installed wide-plank pine flooring for us in a new addition and did some of the finish carpentry. We are very pleased and will certainly call them first for future renovation projects."
Bill Bosl Canton, MA
---
"We were looking for an experienced finish carpenter with a creative vision to build our custom media center. Since we live in an 1880 farmhouse, we wanted a classic style to suit our home, and a team who could work with our uneven walls and floors. Ken and Jack were extremely professional and went above and beyond any contractors we've ever hired. They met with us on several occasions and answered countless emails to ensure we were completely satisfied every step of the way. They were quite knowledgeable about things we hadn't even considered like lighting and hardware. The finished cabinetry is gorgeous and the craftsmanship is superb. Thank you!"
John and Tracy Gage Norfolk, MA – December 2007
---
"I just want to say what a nice job Joe did in my house! He is such a perfectionist! I was very impressed! He was also so patient and kind with his assistant. What a nice guy!! I am very happy with his work and would definitely use him again and refer him to others!"
Sheela Calhoun Hingham, MA – November 2007
---
"Great experience, prompt, affordable and accomodating!"
Nancy Connolly  Marshfield, MA
---
"Joe is an excellent carpenter and professional. He discovered some challenges installing my doors and cleverly developed innovative ways to deal with the stone wall that was "mysteriously" hidden between the plaster. We plan to use him in the future."
Jennifer Moyer  Hingham, MA
---
"We have been using Premiere Pros' services for approximately a year and a half, and we have been very satisfied with their service. Our customers are consistently happy with the repairs made to their homes, and the turnaround time on service is very fast. We pride ourselves on customer satisfaction, and in the event a customer's home has been damaged during delivery it takes that much more effort to ensure satisfaction. Premiere Pros has been invaluable in assisting us to reach this goal. We look forward to our continued business with Premiere Pros, and would recommend them to anyone in need of quick and efficient service and outstanding workmanship."
Eric Maurer, company name withheld – August 2007
---
"We highly recommend Premier Pro's. Kristen and Joe are a fabulous team. Joe came out quickly and did the work we needed within a week! He offered great service, a great price and went above and beyond with his straight forward approach by offering us tips on what colors are 'in style' as well as clueing us in to 'tips to help us sell' our house. His skill, coupled with his experience and knowledge, make for an impressive worker. We have recomended him to many already and we plan to have him work for us again once we settle into our new home."
Delores Shea Weymouth, MA – May 2007
---
"I just wanted to sincerely thank you for the work that you did on our house. The kitchen and bathroom look AMAZING. Theylook even better than I could have imagined. Please extend our thanks to Joe for his excellent work and professionalism. We really appreciate it and would recommend your company wholeheartedly."
John and Ginger Lemay Easton, MA – March 2007
---
"Very satisfied with the work, price and communication throughout the project. Joe is a person of high integrity and I will utilize Premiere in the future."
Stephen Abreu  Norwell, MA – September 2007
---
"Premiere Pros did an excellent job on my deck. Just like a smooth presentation, Joe explained what he was going to do, executed the job, and in the end explained what he did. First Class service for a reasonable price."
Paolo Tantuco, West Roxbury, MA
---
"I was completely satisfied with Premiere's work and absolutely will not hesitate to call them for future home improvement projects."
Nakisha Skinner Roslindale, MA
---
"Premiere did a wonderful job painting the interior of my home. They were organized, detail-oriented, and honest. I would hire them again in an instant."  Bill & Becky Mattey, Cohasset, MA