0
May 1, 2012
in Uncategorized by Kristen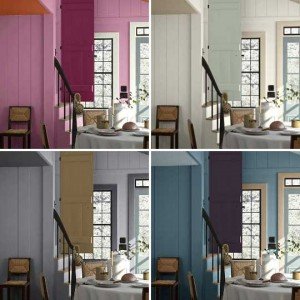 Have you ever wanted to change the color of a room and decided against it because the mere thought of choosing a color puts you in panic mode?   Trust me, you are not alone!   In the last 5 years, I have worked with a number of homeowners and it has become abundantly clear that there are many people who are paralyzed with fear in making that leap from that neutral white or tan to a more bold color (such as Bonne Nuit).   Try adding color gradually. There are two ways you can accomplish it.  First being is to choose a color, but not too bold.  The second option would be is to do a smaller room with a bolder color.  Bathrooms with half-tiled walls or white bead board are great rooms for trying out stronger colors.
You can change the feel of a room, simply by changing the color.  I am guilty of changing colors in our home at least once a year.  The running joke at our hardware store is that our rooms must be shrinking in size due to the amount of paint the walls have on them.   My husband, Joe has taught me all the proper technique which, made me enjoy painting even more.   Oooh, little did I know the  joy that comes from cutting a perfect line!
 Something else to consider when you're changing a color in your home…….. transition your colors from one room to another.   For example;  The foyer or main entrance to your home should be a neutral color, and then you can use bolder colors as you go from one room to another.  For a neutral color, one of my favorites (and most popular) is Benjamin Moore's Harmony AF-90.
Accent walls are also very popular.  However, I would not recommend doing an accent wall if you have four straight walls in a room.  A great accent wall should be done in a color that is different from the other three or has some other defining features such as a fireplace and/or mantel.  Don't be afraid to select a completely different color for your accent wall too.   As long as it's a complimenting color to the  room, it will look great! For those who are still a bit uneasy with accent walls, one option would be to choose a color two shades darker from the room color.   Try something like Kangaroo #AF-145 on three walls and adding Morrel #AF-125 for your accent wall.
 Try not to over-think it or worry about it.  Take the plunge and just add some color! Whether its blues, greens, oranges or reds,  there are always options that will work.  For more color ideas, visit http://www.benjaminmoore.com/en-us/for-your-home/explore-paint-colors.
Read More